So let's hear it....What does everyone think of my blog makeover? I simply love it! Krystal over at Sassy Sanctuary designed it for me.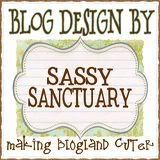 She was fabulous to work with. I'm kinda picky (some people call that a pain in the rear...yep that's me!). I wanted certain things just so. Krystal listened and I think did a wonderful job of doing exactly what I wanted!
With this blog makeover I need to go back and change the labels on most of my posts. I'm a crazy labeler. I'm pretty sure I just made up that word. I like it! You're learning lots of stuff about me today...crazy labeler and pain in the rear. Years of crazy labeling has caught up to me. Be patient and soon it will be easy to find stuff you are looking for.