I'm one of those people who never wins anything. It's true. Whether it's a drawing, giveaway or contest it's just a given I won't win It's all good. I think this is why I love having giveaways. When you don't win anything...flip the coin...and give stuff away! A while back Krystal from Sassy Sanctuary and I started talking about doing something fun on our blogs. My only condition was that it was something everyone could participate in. In fact the more people who participate the better. I'm excited to announce we came up with an idea that includes all of you!
Here is a little blurb from the site... "
Wood you like to Craft
? is a bloggers craft group. We have gathered four fun blogs that have a love for wood crafts. Each month we will be creating one project selected by the "host." Then each of the other bloggers will take a turn showing their variation of the same craft. But we want you to join in too! We will have a week long link party so you can make and share your take on the month's craft. We can't wait to see all the twists and turns one project can take!"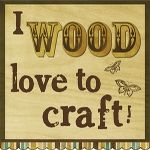 The three talented bloggers joining me are Krystal from
Sassy Sanctuary,
Wendy from
Craft Goodies
and Candace and Nicole from
Crafty Sisters
. Sweet list, right?
Check out our new "
Wood you like to Craft
?" site for more details. Occassionaly kits for the project will be offered. I'm sure my love of giveaways will come in play at some point! I'm kicking this thing off March 7th. Eek! The pressure of going first. Stick around to see how the other creative gals change it up. Also feel free to grab a
button
from the site. The more people who participate the better! We will need everyone's help advertising to get this going!
So I think my blog readers are pretty much the kindest, most creative, best lookin' people around! Only because I know those things to be true I'm giving you a sneak peek of the first project done by me.
Visit the Wood
You Like to Craft
site for a detailed supply list and picture. Come check out my blog March 7th to see the full tutorial. I'm excited to craft with you even if it's long distance!!